This research pr

oject emerged from a longstanding appreciation and curiosity for how people connect and respond to places. I initially explored this through a series of design-led experiments examining my own re

lationship to place.
Researching and working around this topic, I began to understand the immense value of work in this area. This interest eventually led me to discover place branding, as I admired the projects and work of various agencies and studios.
Whilst exploring and examining these projects, however, I was reminded again of how complex work on place is, as the responsibility of the designer heightens. Additionally, various implications arose as I considered the notion of branding something like place. Branding is after all an inherently commercial practice, traditionally designed for corporations and consistency, rather than diverse communities and cultures.
These factors and considerations came up as quite important to me, as an emerging designer, interested in this area of work. I, therefore, decided to take the opportunity to examine the practice over my honours year, exploring opportunities through which we can work with place more responsibly.
To do this, I embarked on a research journey, using a variety of research methods to explore and examine the practice from a variety of perspectives. This involved conducting a series of semi-structured interviews with industry professionals and academics, analysing design critiques and academic articles through secondary research and undertaking a variety of branding experiments.
To gain industry expertise and critique of the practice, I conducted a series of semi-structured interviews with professionals working and thinking through the context of place and design. I was lucky enough to speak with a broad range of people; from researcher-practitioners to a map illustrator; sustainability consultants to award-winning branding agencies.
Aside from allowing me to practice writing emails and interview questions, these interviews helped me explore a variety of approaches and perspectives, and also uncovered professional critique into how the practice can evolve more responsibly. Structuring each interview with set questions, I was able to guide conversation whilst also allowing for further questions and discussion, ultimately leading to deeper points of insight and examination.
I'd like to give a big thank you to all those who made time to meet with me—your guidance and support was truly insightful and enlightening.
Opening up my exploration, I examined a broad range of discourse and critique around the practice through secondary research. This included reading academic articles and texts on the subject, analysing design critiques and investigating case studies and articles from agencies working in the area.
Collating and synthesising all of this information contributed to my critical understanding of the practice, as I was able to grasp a broad range of opinions and perspectives which ultimately uncovered further questions and implications to consider.
Conducting small branding experiments alongside the rest of my research helped me think through what I was learning about. Taking this practice-based mode of research, I was able to further understand the contexts and processes of branding place, deepening my inquiry and uncovering further considerations and questions.
Each experiment ultimately revolved around the premise of branding the local bushwalks around my home suburb of Westleigh. The locality and familiarity of these walks made experimentation slightly easier to manage amidst lockdown restrictions.
Inspired by numerous lockdown walks, and a new found interest in the vast bushland around my suburb, my first experiment attempted to promote engagement with and bring clarity to the various bushwalks around my local area. 
The resulting brand system introduced me to the complexity of branding, as it was difficult to represent place simply through a few brand images. It would also have been beneficial to set a more detailed brief for myself from the start, in order to develop a stronger brand concept and direction.
Ultimately, I learnt that a brand is not simply a system of images: it's the underlying concept and direction which matters most. It's also shown me the potential for brands to shape and promote places in ways that can encourage positive action, values and relationships, bringing clarity to places for people to engage with in impactful ways.
Moving on from feedback from my first experiment, I decided to 
further investigate the Indigenous history of the Westleigh area, 
specifically researching Indigenous place names.
Place naming is an important element of place branding, as 
names represent the meanings people associate with places. 
Indigenous place naming therefore provides a powerful tool of 
acknowledging the traditional owners of the lands we live on, 
whilst also recognising and embedding Indigenous culture and 
language into the fabric of our communities.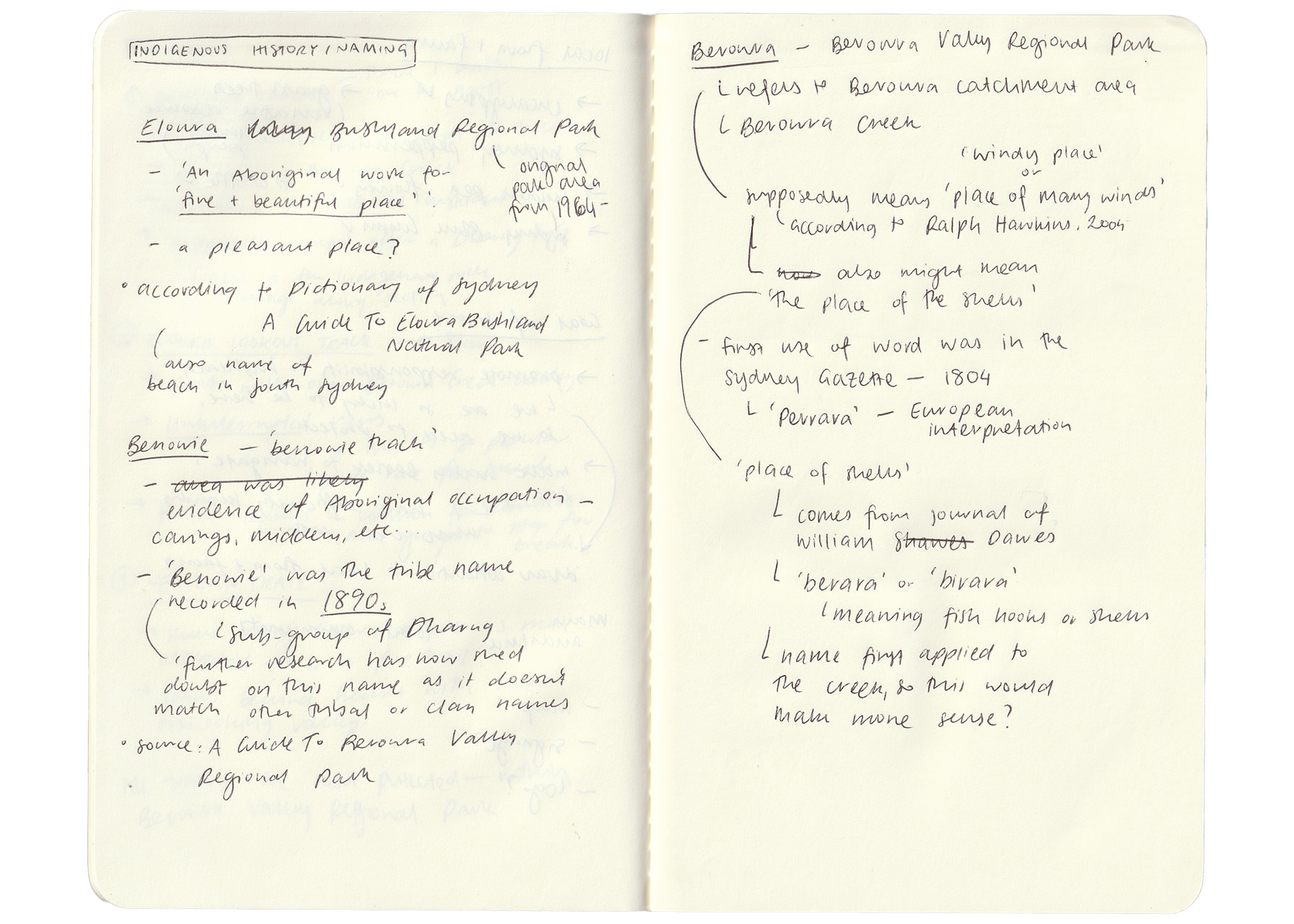 This process mainly involved research into the history of the area, to which I found a lack of references from Indigenous communities and voices. Instead I found a lot of assumptions made by white settlers and historians. 
To avoid perpetuating these assumptions, I attempted to reach out to find local Indigenous groups or communities with whom I could find more information.
In my search I came across a local group, the Hornsby Area Residents for Reconciliation. 
Reaching out, I discovered a variety of projects the group are currently working on, one of which includes the creation of a dual naming policy with the council to acknowledge traditional owners. I was really pleased to find that action was starting to be taken in my community to adopt Indigenous place names, as thus far in my research, I hadn't been able to find any accurate information from Indigenous sources.
Whilst it would have been beneficial to speak with someone from this group or reach out elsewhere, I decided against furthering this experiment as I couldn't appropriately prepare for a consultation process on my own.
Throughout my university degree, I have been fortunate enough to conduct consultation sessions with Indigenous Elders and cultural advis

ors, guided by my tutors and lecturers, specifically Dr Jacqueline Gothe, Dr Jason De Santolo and Claudia Leigh a

s well as Elders, Uncle Jimmy Smith and Aunty Rhonda Dixon-Grovenor. Without this guidance and direction, and with limited time, I was able to recognise that it would not be appropriate to organise a proper consultation on my own, in the context of this small experiment.
The value of researching Indigenous place naming has been integral in my exploration of place branding as was an important way for me to begin to understanding how we can and should be working and shaping place for the future, in ways which decolonise and reconcile with Indigneous knowledge, heritage and culture.
Finally, I explored the process of community consultation and engagement, as this becomes one of the most integral aspects of research when developing a place brand.
Community consultation has and always will be an essential element of place branding as it most effectively unearths what is authentic to place and also plays a large role in ensuring that the brand strategy is something which can be taken hold of and owned by the community themselves.
01. My first experiment explored
community consultation activities developed by agency, For The People
.

Testing these questions and activities out on my peers, I could begin to understand the process of consultation and gauge how effective activities like these are in engaging with a community and helping people describe their experiences with place.
02. The second small activity I undertook involved taking similar questions from the previous workshop and repeating the same process onto my ongoing experimentation around Westleigh Walks. Using a local community Facebook group and a local bushwalking group, I posted a series of questions for people to respond to in the comment section to gain some insight about the walks from a local perspective.
​​​​​​​
Overall, conducting community consultation and engagement activities in lockdown was quite hard, and not entirely possible for only me to do. What these experiments did show me was 
that talking to the people you're serving is the most valuable 
research tool and that these sessions should be appropriately 
planned and run.
Through engaging with the community and gaining genuine 
insights, we can begin to understand what is true about a place 
in order to develop effective strategy which will resonate with and empower the people it will serve.
Collating The Pu

blicati

on
After eventually prying myself away from research, I began the long process of collating and refining information and insights into a publication. 
I felt the visual design of the publication should reflect a minimalistic, yet slightly natural style. This minimalistic, geometric structure and grid showcased all the work I had done, making information easy to consume and reflect upon. 
Reflecting a 'natural' style through the use of green hues and balanced white space subtly portrays a sense of authenticity and organicness, referencing values and concepts of place discussed throughout the publication.
To highlight particular points of insight, I chose a contemporary serif typeface to contrast the san-serif body text. Setting these chunks of text in a darker shade of green works to further highlight this information in a way that is not too visually detracting and distracting.